Managed Print Services | MPS Info & Supply Replenishment Progams
Managed Print Services ( MPS ) is the service of managing of all aspects of businesses copiers, printers, multifunction devices, and fax machines. Included in this service is all supplies, service, parts and maintenance.
THINK! Office Solutions offers this service for a flat rate per copy/print based on actual usage. We install software on your network that allows us to track pages printed, ink toner/ink levels, and even error codes allowing us to proactively manage your fleet. Our software also allows you a consolidated look at all of you equipment and usage.

Chances are you are paying close to 20¢ per color page, and 4¢ per b/w page. In most cases THINK! can cut that number by more than half! Based on that assumption THINK! can save a company that prints just 1000 color pages per month over $1200 per year!

Stop wasting money and spending your precious time processing supply orders and service calls. End machine downtime frustration once and for all!


THINK! Managed Print Services & Supply Replenishment Programs
Getting started is simple and you are under NO OBLIGATION to use our services. To begin you simply Register Here for free. We can then remotely monitor your office machines and after carefully analyzing your situation we will make a recommendation that will save you money. Chances are we will either offer our Supply Replenishment Program - OR - our MPS Program.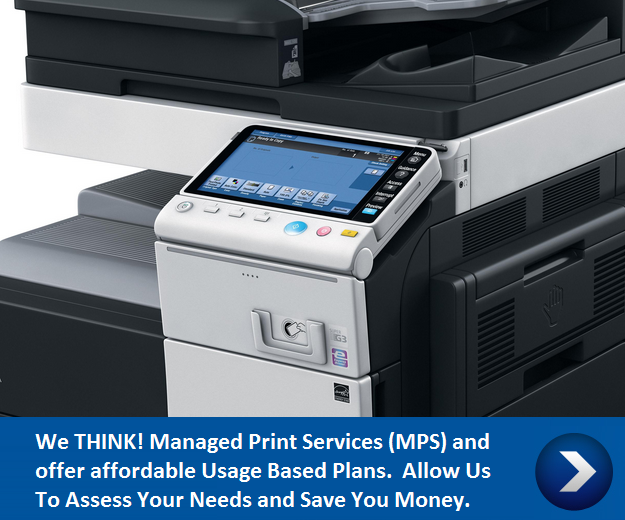 FREE Supply Replenishment and Machine Performance Monitoring
FREE Supply and Machine Performance Monitoring: THINK! Office Solutions has partnered with PRMHero to offer Managed Print Services software which installs on any networked PC at your site and interacts with your office printers and copiers for the purpose of automated meter readings, technical performance monitoring, machine status and supply-level monitoring for replenishment purposes.
If you are tired of watching your toner levels or worse...running out of Toner or Ink our MPS Software is for you! Let us proactively manage your office equipment. Allow THINK! to remotely monitor your Supply Levels and Machine Performance. Register Here for our FREE Machine Monitoring Services. It is safe, secure and hassle free! There is no purchase necessary and you are not obligated to accept our services. When your machine needs supplies or service we will simply contact you by phone or email to offer our services. Have more questions? Call or Email Us or visit PRMHero.com
We THINK! Managed Print Services...So YOU Don't Have To!
THINK! Office Solutions is in business to reduce our ecological footprint and save companies and individuals money on business products and services. THINK! Executives have over 25 Years of Imaging Industry Experience. Since 2004 Thousands of Metro Denver Business and Individuals have relied on THINK! Office Solutions to provide them affordable printing solutions. We invite you to join the thousands of Metro Denver companies that rely on THINK! Office Solutions so save them money on printing supplies and services. Call 303-300-5249 or Email Us to schedule a free, no obligation, MPS evaluation.