General FAQ's and Payment
Options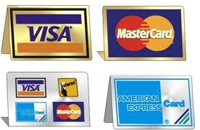 In our physical stores we accept the credit/debit cards shown below, checks and cash.
On-line we accept credit/debit cards and terms (if you have established an account with the store you are ordering from). Online acceptance of credit/debit cards is currently in progress.
Credit Cards we accept are Visa, Master Card, American Express and Discover Card.
We accept company checks. Companies ordering from Think! for the first time will need to fill out a THINK! TONER & INK, THINKTONERANDINK.COM Credit Application Form. Your first order is good up to $200.00. You will see this form when you select Company Check when you are ready to buy.